Dial® offers a wide range of products — from body wash and bar soap to hand soap and lotion, the products provide benefits like moisture, exfoliation, protection, replenishment and more!
Facebook | Twitter | dialsoap.com
1-9 of 9
Dial Reviews
Dial Coconut Water and Mango Hand Soap

32 reviews
Un savon que j'adore vu que la senteur est très agréable. De plus , le savon mousse bien et lave très bien les salissures. Finalement, il laisse les mains très douces et ne les assèchent pas ce qui est un très grand point positif vu le nombre de fois qu'on se lave les...


Smells great! Not much else to say about hand soap. Oh, and, it's purple.


An excellent body wash that both provides a creamy lather and a fresh smell. A little bit goes a long way as well. I feel that the value is also good as it has a good price point.


Dial Kids Foaming Hand Wash

4 reviews
This is the best product I have found for my grandkids. Kids like using it, because its fun and fast. I don't have to remind them to wash their hands.


Dial Naturals Hand Soap

5 reviews
Love love love this soap! Does it's job and leaves you feeling nice and fresh! My family has used it for years and years and will never switch to another brand! Smell, quality, everything is wonderful! Great job dial!!


Dial "Hello Kitty" Hand Soap

8 reviews
I love the dial soap it cleans so well. It having hello kitty on it makes it wvwn betrwe. The soap is easy to pump and easy for my son to use . The scent is very nice too .


We use Dial product for year now and we never disapointed about quality and scent. Very good product for our family.will recommended. Thank you Stephanie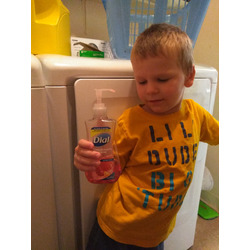 Its gentle on my children's hands, while smelling amazing AND killing germs! Love this hand soap! My kids have no problem using the pump action handle, and it's a narrow enough bottle it doesn't take up much counter space.


Dial Deep Cleansing Hand Soap

7 reviews
I try to find something effective for my husband hands he works with concrete and this is awesome.. It cleans them very well and gets concrete off and his hands doesn't look dry anymore.