Gillette is an American safety razor manufacturer that was introduced in 1895. The brand also produces personal care products. Since 2005, they have been a part of Procter & Gamble. Gillette products reviewed on ChickAdvisor include the
Venus Embrace Razor
,
Pure Divine Body Wash
and
Satin Care Vanilla Dream
.
Facebook | Twitter | gillette.com/Canada
1-11 of 11
Gillette Reviews
So since Gillette came out with the fusion blades and line I have been an absolute fan! Just recently I have been using these blades to also shave my head and they do an amazing job. There is no irritation afterwards and they give you a very close shave leaving smooth skin. I...


I have used this in the past and I will be using it in the future. Great product for sensitive skin like mine. And a great company and not to expensive


Gillette fusion5 proglide

1 review
Writing on behalf of my partner, who doesn't do reviews. He is very pleased with this great razor from Gillette, which comes with two heads; one is a skin guard for sensitive skin. As his tends to be sensitive and prone to cuts, he was very pleased to shave without nicks. A...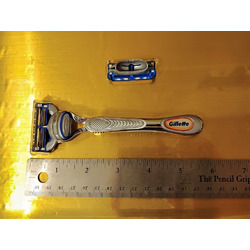 Gillette Skinguard Men's Razor

2 reviews
I really like gillette products because I have sensitive skin and they have a wide range which is suitable for my skin type and very affordable too so definitely recommend everyone who have sensitive skin


Gillette shaving gel

4 reviews
I've used this product for many years. Lasts along time for many uses. Foams up nicely and provides good coverage. I would buy this again and have been.


Gillette hydrate and body wash

2 reviews
My girlfriend got this for me to try. I liked it but not sure if it something that i would buy again. It did leave my skin feeling a little dryer and some of the other products that i have used in the past


Gillette Comfort Glide Formula FOAMY

8 reviews
This is your basic/standard shaving cream. There's nothing special about it, but that's all you need for shaving cream. I have never had any issues using this product. Additionally, the price is great and 1 can last for a very long time. I would definitely recommend based on the...


Gillette Mach 3

5 reviews
I enjoyed the way my face felt after using thus razor. It was a close smooth cut free shave. I was able to shave every other day with it without any razor burn ever. I would recommend to every man who wants s great shave


GILLETTE ENDURANCE COOL WAVE

3 reviews
this is my favorite deodorant . It has a great smell but not to overpowering. It does not leave any chalky white residue. It really eliminated the odor. I buy this product all the time.


This isn't the bets shaving cream I've ever used but it's not the worst either. The smell is pretty nice but it doesn't feel as creamy as many others do.


I'm not a fan of this product. It hardly foams at all.. it's more like watery white liquid that applies super thinly. Will definitely be going back to a shave gel after this. It's more of an annoyance than anything. I find I have to use a ton of product each time.. and since...