Discover the rich and smooth flavours of McCafé®. We'll help you start your morning right with that first perfect sip and brighten your whole day with an assortment of delicious hot and cold beverages – including our smooth, creamy and cool Iced Frappés® and made-for-you Smoothies®.
See more here.
Facebook | Twitter | mcdonalds.ca/ca/en/menu/full_menu/mccafe.html
1-6 of 6
McCafé Reviews
McDonald's McCafe Fine Grind Coffee

308 reviews
Avant je n'aimais pas le café chez McDonald's mais ils l'ont changé quand ils ont commencé à faire le McCafé. Je l'adore. Il est pas trop fort c'est plutôt un café torréfaction moyenne. Sur la route j'ai maintenant tendance à arrêter chez Mcdo pour un café plutôt...


McDonald's Iced Coffee

170 reviews
Depending on which one u go to ive had good ones ive had horrible ones but i leep going to my main one for there ice coffees cuz they dont charge for extra vanilla and they dont over load it with ice its just right and omg good n for the price of 2 bucks way better then dd n...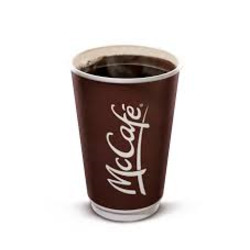 McCafe Coffee

120 reviews
I do have issues with coffee and it hurting my stomach. I have tried many different kinds and McCafe is the only one that is gentle and smooth. The taste is amazing.


McDonald's Vanilla Chai Tea Frappe

64 reviews
This drink is my favorite summer drink tops any cold beverage while I'm out on the go. The mix of chai and vanilla is delicious can't wait for my mcdonalds to start serving them again.


McDonald's Caramel Coffee Iced Frappe

24 reviews
I have 5 boys who live McDonalds happy meals. Everytime we go there I get a caramel Frappe and I absolutely love it. I can say yes I have had better but when out and about it's a most have.


McDonald's Pumpkin Spice Latte

3 reviews
Love, love, love! I am normally more of a plain coffee drinker but when McDonald's comes out with their Pumpkin Spice Latte I get nothing but that! Unfortunately it is almost at the end this year but until then I am in heaven! Worth the splurge!!!