Discover the rich and smooth flavours of McCafé®. We'll help you start your morning right with that first perfect sip and brighten your whole day with an assortment of delicious hot and cold beverages – including our smooth, creamy and cool Iced Frappés® and made-for-you Smoothies®.
See more here.
Facebook | Twitter | mcdonalds.ca/ca/en/menu/full_menu/mccafe.html
1-6 of 6
McCafé Reviews
McDonald's McCafe Fine Grind Coffee

287 reviews
I love McCafe Coffee! It's my fav. The flavour is so much better then other brands. I buy it all the time and also use the grounds for home brewing. Very smooth with a great taste, highly recommend.


McDonald's Iced Coffee

154 reviews
This iced coffee is pretty good, not great but I will always get during summer drink days as for $1 it's a steal. The coffee flavour definitely comes though, although it is not super strong. The flavored coffees taste just like the original though so I would not pay extra for...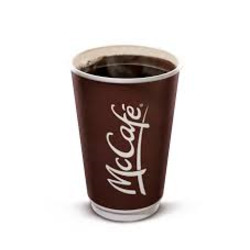 McCafe Coffee

116 reviews
I'm a coffee addict and I absoulutely lobe this coffee it actually tastes good black too which I never drink black coffee cause I usually hate the taste but this is gr eat


McDonald's Vanilla Chai Tea Frappe

60 reviews
This is my go to summer drink! It's got the classic vanilla flavour, with a punch of chai! It's so delicious, so be careful. They pack in the calories, but every once in awhile they're an amazing, cool, refreshing treat!


McDonald's Caramel Coffee Iced Frappe

19 reviews
So just like any fast food place if it isn't made right you know.. Well these are really really good. The caramel is by far my favorite. But not going to lie if they don't make it right it is really really strong and almost to much to drink.


McDonald's Pumpkin Spice Latte

3 reviews
Love, love, love! I am normally more of a plain coffee drinker but when McDonald's comes out with their Pumpkin Spice Latte I get nothing but that! Unfortunately it is almost at the end this year but until then I am in heaven! Worth the splurge!!!