One of the world's most trusted skincare brands, NIVEA has been creating products for the entire family since 1911. From the iconic NIVEA Creme blue tin, to today's innovative in-shower moisturizing lotions and instant make-up removers, as well as a wide variety of body lotions, body washes, soap bars, moisturizers, facial cleansers, antiperspirants and men's products, NIVEA products are a part of people's everyday lives in all around the world. ChickAdvisor members suggest
Lip Care Essential
,
Visage Gentle Eye Makeup Remover
and
Soft Creme.
1-5 of 5
NIVEA Reviews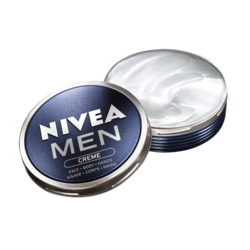 NIVEA Men Creme

983 reviews
Use this product on a daily. Great for dry nose area like mine. Great price and great feeling it leaves your skin. Would recommend it to any man out there.


NIVEA Men Sensitive After Shave Balm

98 reviews
Ive used many aftershaves and this was one of the best for soothing freshly shaved skin. It feels more like applying a lotion to your face and neck, no alcohol burns!


NIVEA Men Active Care Lip Balm

67 reviews
This is a great lip balm, moisturizes and nourished the lips quite well. I have chapped lips and this always helps keep that under control. I do like how it does not leave a sheen on your lips.


NIVEA Men Moisturizing Shaving Gel

5 reviews
JE VOUS LE RECOMANDE IL ENT BON ET HYDRATE A SOUHAIT .. PARFAIT POUR LES HOMME A LA PEAU SECHE OU ERITER . EFFIACE ET ABORDABLE TRES BON PRODUIT POUR HOMME a ESSAYER


NIVEA Men Silver Protect Shower Gel

10 reviews
Like most of the Nivea Men Body Wash products, they come with an invigorating scent. It lathers really well, and cleans out the dirt and odour, and leaves a nice musky scent.