One of the world's most trusted skincare brands, NIVEA has been creating products for the entire family since 1911. From the iconic NIVEA Creme blue tin, to today's innovative in-shower moisturizing lotions and instant make-up removers, as well as a wide variety of body lotions, body washes, soap bars, moisturizers, facial cleansers, antiperspirants and men's products, NIVEA products are a part of people's everyday lives in all around the world. ChickAdvisor members suggest
Lip Care Essential
,
Visage Gentle Eye Makeup Remover
and
Soft Creme.
1-5 of 5
NIVEA Reviews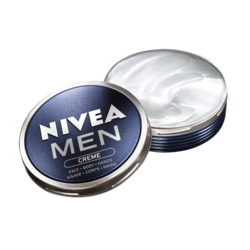 NIVEA Men Creme

978 reviews
j'ai adoré ce produit. ca hydrathe la peau l 'hiver, sans la laissé grasse, elle rentre assez vite dans la peau. et elle a un parfum léger pour les hommes.


NIVEA Men Sensitive After Shave Balm

97 reviews
So I asked my fiancé about this product. After shaving he applied the post shave balm and didn't experience the normal burning and itchiness after shaving. He's skin felt cool, supple and soft. Also there was no redness apparent. The only small drawback with using this balm...


NIVEA Men Active Care Lip Balm

66 reviews
I always bite my lips so this lip balm really helps it to heal faster with its Pro-Vitamin B5 and Shea butter. It also leaves no shine if you're into that.


NIVEA Men Moisturizing Shaving Gel

3 reviews
My wife purchased this for me. I really like it. Smells great and gives a nice lather. Lasts long. Great value. Excellent product by Nivea. I will be buying this regularly. It's been great for my skin as well.


NIVEA Men Silver Protect Shower Gel

10 reviews
Like most of the Nivea Men Body Wash products, they come with an invigorating scent. It lathers really well, and cleans out the dirt and odour, and leaves a nice musky scent.