1-7 of 7
Perrier Reviews
Perrier Sparkling Natural Mineral Water

61 reviews
This is the best drinking sparkling mineral water ever. It has many different flavors and it is best for people who does not like sweet drinks. I like to mixed it with 100% juices instead of drink sodas for diabetic reasons. It is a healthier drink besides water. Love it and...


Perrier Pink Grapefruit Carbonated Water

36 reviews
I love sparkling water. I really ought to get a soda stream. I like perrier a lot but for the price I often buy President's Choice instead. It tastes about as good but the price makes it my go to.


Perrier Lime Carbonated Water

48 reviews
This is currently my favourite carbonated water. Very refreshing, lots of flavour but does not taste fake like other brands. I am trying to reduce the amount of pop that I drink and this is the perfect substitute. I love Perrier but the lime is my favourite


Perrier Strawberry Carbonated Water

7 reviews
I am not a big carbonated water drinker but when I crave it once in a blue moon, I go for the best brand Perrier. I recently tried the strawberry flavour and it kinda got me hooked. It has a good amount of flavour (especially compared to Bubly's strawberry flavoured water)...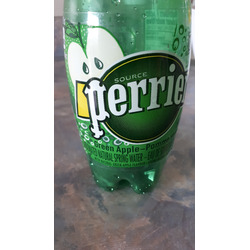 Perrier Green Apple Carbonated Water

7 reviews
If you love carbonated water, like I do, but are bored with plain ole' flavourless bubbles this is your new drink. You can taste a hint of green apples with every sip. It can be a tad pricy so to cut cost buy in bulk. Excellent and healthy refreshing drink. Keep hydrated...


Perrier Orange Carbonated Water

5 reviews
J aime beaucoup le Perrier j en bois chaque jour! Les nouvelles saveurs autre que citron et limé sont a découvrir ! A quand des formats de deux litres?


Perrier Lemon carbonated water

12 reviews
Tasty & Refreshing it is! and even yummier with a splash of Crystal Light!!! Im looking forward to try to other flavors! Great alternative to sodas!!!!!