1-7 of 7
Perrier Reviews
Perrier Sparkling Natural Mineral Water

63 reviews
Perrier sparkling water tastes really refreshing. I love how fancy the bottles look while the price is really affordable. It's the perfect amount of bubbles without all the sugar of soft drink.


Perrier Lime Carbonated Water

50 reviews
I love Perrier and any other carbonated drink This is my susbstitue to pop and has been for a while I'm not much of a water drinker so this is the best for me I've actually turned my husband and daughter into Perrier drinkers as well


Perrier Pink Grapefruit Carbonated Water

37 reviews
Grapefruit drinks are, normally, amazing even though I don't like grapefruit. But this? Makes me shudder. There is no redeeming quality for this. I say no.


Perrier Strawberry Carbonated Water

7 reviews
I am not a big carbonated water drinker but when I crave it once in a blue moon, I go for the best brand Perrier. I recently tried the strawberry flavour and it kinda got me hooked. It has a good amount of flavour (especially compared to Bubly's strawberry flavoured water)...


Perrier Orange Carbonated Water

6 reviews
I've tried every flavored carbonated water out there. This one fulfills my craving for orange pop, with none of the sugar and chemicals. Most of the others have a vaguely chemical aftertaste because the orange flavor is artificial. Perrier Orange tastes like I squeezed an orange...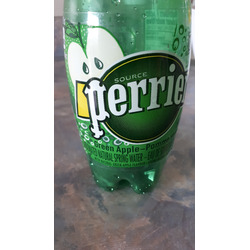 Perrier Green Apple Carbonated Water

7 reviews
If you love carbonated water, like I do, but are bored with plain ole' flavourless bubbles this is your new drink. You can taste a hint of green apples with every sip. It can be a tad pricy so to cut cost buy in bulk. Excellent and healthy refreshing drink. Keep hydrated...


Perrier Lemon carbonated water

12 reviews
Tasty & Refreshing it is! and even yummier with a splash of Crystal Light!!! Im looking forward to try to other flavors! Great alternative to sodas!!!!!