1-7 of 7
Perrier Reviews
Perrier Sparkling Natural Mineral Water

58 reviews
I love Perrier. It's great for all seasons when you are looking for something cold and fizzy. It tastes great and you can even spritz a lemon or lime for a citrus punch. Perrier has been a staple in my fridge since I was a teenager. It's sophisticated and delicious.


Perrier Lime Carbonated Water

48 reviews
This is currently my favourite carbonated water. Very refreshing, lots of flavour but does not taste fake like other brands. I am trying to reduce the amount of pop that I drink and this is the perfect substitute. I love Perrier but the lime is my favourite


Perrier Pink Grapefruit Carbonated Water

34 reviews
I don't drink pop or juice but keep this on hand as a refreshing treat when I want something other than flat water. The grapefruit is my favourite one.


Perrier Strawberry Carbonated Water

7 reviews
I am not a big carbonated water drinker but when I crave it once in a blue moon, I go for the best brand Perrier. I recently tried the strawberry flavour and it kinda got me hooked. It has a good amount of flavour (especially compared to Bubly's strawberry flavoured water)...


Perrier Orange Carbonated Water

5 reviews
J aime beaucoup le Perrier j en bois chaque jour! Les nouvelles saveurs autre que citron et limé sont a découvrir ! A quand des formats de deux litres?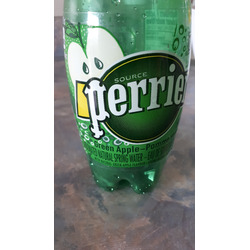 Perrier Green Apple Carbonated Water

5 reviews
I found this to be very refreshing on a hot day! I thought it would be sweet, but it's tart like a granny smith apple. I really like this flavour and will definitely try mixing it with juice!


Perrier Lemon carbonated water

11 reviews
Perrier ' s Lemon Carbonated water is the best to have on hand on a hot sticky summer day! This is always in my fridge ready for friends,family, guests to enjoy. It cleans the palate and is always refreshing. You can't go wrong serving this appealing drink Iconic bottle looks...