1-7 of 7
Perrier Reviews
Perrier Sparkling Natural Mineral Water

54 reviews
I absolutely love regular Perrier. I never drink carbonated soft drinks anymore. Not too fussed on the flavours, like regular Perrier with a slice of real lemon or lime. Perrier is so refreshing. Try it. You will love it.


Perrier Pink Grapefruit Carbonated Water

34 reviews
I don't drink pop or juice but keep this on hand as a refreshing treat when I want something other than flat water. The grapefruit is my favourite one.


Perrier Lime Carbonated Water

47 reviews
my go to mineral water. tried several brands and allways returnt to Perrier. Taste is perfectly balanced and is a great substitute to soft drinks. Haven't tried other flavours


Perrier Strawberry Carbonated Water

5 reviews
This is my go to, my ride or die, my all time favourite carbonated water. Unlike a lot of other carbonated waters, these ones do not have that tacky, disgusting artificial sweetener or flavour to it, it tastes like genuine strawberry, with not a whole lot of sweetness, but just...


Perrier Orange Carbonated Water

5 reviews
J aime beaucoup le Perrier j en bois chaque jour! Les nouvelles saveurs autre que citron et limé sont a découvrir ! A quand des formats de deux litres?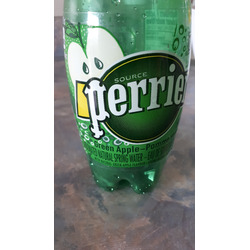 Perrier Green Apple Carbonated Water

5 reviews
I found this to be very refreshing on a hot day! I thought it would be sweet, but it's tart like a granny smith apple. I really like this flavour and will definitely try mixing it with juice!


Perrier Lemon carbonated water

11 reviews
Perrier ' s Lemon Carbonated water is the best to have on hand on a hot sticky summer day! This is always in my fridge ready for friends,family, guests to enjoy. It cleans the palate and is always refreshing. You can't go wrong serving this appealing drink Iconic bottle looks...