1-7 of 7
Red Rose Reviews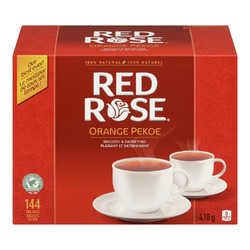 Red Rose Orange Pekoe Tea Bags

316 reviews
I have loved Red Rose orange pekoe tea ever since I was little. To me, this is the flavour that comes to mind when I'm asked if I would like some tea. This is timeless and delicious. And it comes in a giant box at a great price! Talk about a steal!


I like red rose taste it's great full flavor and it goes with with coconut almond milk. Its prefect morning or night. You can't go wrong with a good cup of tea


Red Rose Canadian Breakfast Tea Bags

128 reviews
It has been awhile since I really had Red Rose Tea and I mostly had it as a teenager and then stopped for a few uears Now, I am finding myself drinking it more and more. It tastes exactly like it did over 10 years ago and the fond memories are wonderful while sipping a hot or a...


Red Rose Orange Pekoe Decaffeinated Tea Bags

114 reviews
This is my go to tea when pregnant. I was a little skeptical at first about how this was going to taste however was pleasantly surprised that it tasted just like regular tea. My only complaint is the cost, it is much more expensive than regular tea.


Red Rose Organic Orange Pekoe Tea

69 reviews
Not sure why this tea specifically but red rose orange pekoe always makes my day a little brighten when I am feeling under the weather or on cold winter days


Absolutely love this! I picked this up not expecting very much. They are the "Sweet Temptations" line by @shareredrosetea. This one is delicious by far my favorite tea


Red Rose Vanilla Biscotti KCup

1 review
I really really really wish companies would STOP PUTTING FAKE SWEETENER in the there single serve products. It just ruins the entire product with the terrible sucralose aftertaste. YUCK! I love vanilla tea. LOVE LOVE LOVE! So when I found a product for my Keurig, I was sold...