1-6 of 6
Schmidt's Reviews
Schmidt's Sage + Vetiver Natural Deodorant

336 reviews
I liked this deodorant because it is relatively long-lasting compared to other brands I've used in the past. I think its retail price is a bit steep but I'd say you get your value for the money with this deodorant. One application is good for abour 5 hours for heavy sweaters (of...


Overall great product. Scent was amazing. Just not enough protection for sweating. Overall it didnt last all day for me. I felt sweating all day. But other then that I would recommend to someone that maybe didnt sweat as much


Schmidt's Bergamot + Lime Natural Deodorant

291 reviews
I received Schmidts Bergamot and Lime Natural Deodorant free for testing but all opinions are my own. The initial scent is such summer like lime and fresh however it doesn't last long. I don't have problems with body odor so unsure how well this product worked for that but it...


Schmidt's Here + Now Natural Deodorant

50 reviews
I highly recommend this product or any of their products when it comes to natural deodorant it really does work with helping to reduce the odour the only downfall is that it rubs off on clothes sometimes.


I really enjoyed other product made in this line, unfortunately this just wasn't for myself or my husband. We had a very hard time getting past the chalky, coal like taste. It did not leave teeth feeling very clean or refreshed.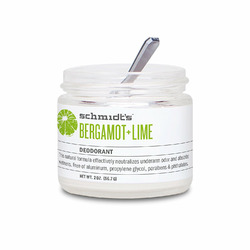 I absolutely LOVE the scent of this deodorant!! This was the first natural deodorant I've tried and I've repurchased 5 times so far. I prefer the stick version for convenience, but appreciate the less waste with the jar.