1-6 of 6
Schmidt's Reviews
Schmidt's Sage + Vetiver Natural Deodorant

336 reviews
I liked this deodorant because it is relatively long-lasting compared to other brands I've used in the past. I think its retail price is a bit steep but I'd say you get your value for the money with this deodorant. One application is good for abour 5 hours for heavy sweaters (of...


When I saw this deodorant I was excited to use it. Charcoal in a deodorant wow. After using it for a couple of days I noticed I had bumps develop in my arm pit, I stopped using it and than my pits started peeling like the skin was burnt. I am not able to use any deodorant at the...


Schmidt's Bergamot + Lime Natural Deodorant

271 reviews
I've tried many different natural deodorants and I am really impressed with this product. It works well for day to day wear and have a nice refreshing scent. It is pricier than revaluation deodorant but I think the health benefits make it worth while. If doing heavy activities...


Schmidt's Here + Now Natural Deodorant

50 reviews
I highly recommend this product or any of their products when it comes to natural deodorant it really does work with helping to reduce the odour the only downfall is that it rubs off on clothes sometimes.


I Love this toothpaste it costs a little more then my regular stuff. But I find it is worth it. Even my kids who are 7 and 10 find its cool because it has charcoal and the mint is milder.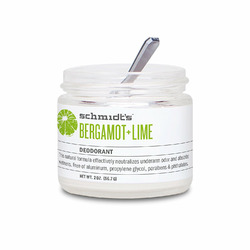 I absolutely LOVE the scent of this deodorant!! This was the first natural deodorant I've tried and I've repurchased 5 times so far. I prefer the stick version for convenience, but appreciate the less waste with the jar.