Facebook | Twitter | americancrew.com
1-3 of 3
American Crew Reviews
AMERICAN CREW Fiber

498 reviews
Great shine very nicely made good product holds well easy to style very nice. My wife liked it aswell . Good product would be buying again in the future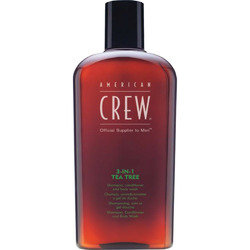 American Crew 3-in-1 Tea Tree

41 reviews
The product was recommended by my hairdresser, but unfortunately it worked very poorly. 2/3 of the bottle has been sitting on the shelf for months now. Do not recommend.


American crew moulding clay

6 reviews
Love this product. it smooth and easy to apply. This product will not wear about through out your day. It will last. It is also east to clean out at the end of the day.