Arm & Hammer is a registered trademark of Church & Dwight, an American manufacturer of household products. The logo of this brand is a muscular arm holding a hammer. Originally associated only with baking soda and washing soda, the company began to expand the brand to other products in the 1970s using baking soda as a deodorizing ingredient, including toothpaste, laundry detergent, underarm deodorant, and cat litter. The Arm & Hammer brand is one of the longest-running and most recognized U.S. trademarks. For more information visit
armandhammer.ca
1-9 of 9
Arm & Hammer Reviews
Good value for the price I get mine on sale at walmart...It gives a really good cleaning to the teeth like you left the dentist. Will but again in the future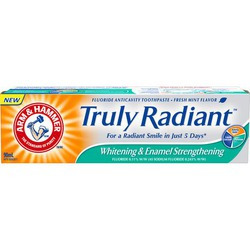 Arm & Hammer Truly Radiant Toothpaste

442 reviews
You definitely know there is baking soda in this toothpaste. It is very gritty while using and the taste is not the best. It does work but it's like taking cod liver oil. Is the taste really worth it?


Love love love love this toothpaste been my good to toothpaste for the pass 3 years !! Highly recommend it to anyone it has perfect minty fresh taste help me with my sensitive teeth this toothpaste is my favorite 😍😍😍😍


Ever since I was a child, this is the only toothpaste I have ever used! I am not a fan of a strong mint tasting toothpaste due to the strong sugar content that most of them have. This toothpaste has never failed me in always taking care of every dental hygiene need. I prefer...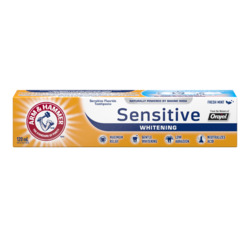 I really do not like this toothpaste. I have very sensitive teeth and I figured I would give this a try. Dont bother. It's so gritty it's like brushing your teeth with sand. It also tastes terrible.


I use this toothpaste all the time it's great value for money and makes my teeth whiter. In would definitely recommend this to my friends and family too.


j aime beaucoup ce produit truly radiant je l utilise souvant moi et ma famille je compte rester fidele a cette marque parce que c est ma marque préférée et je compte pas la changé


This is a new enamel strengthening toothpaste by Arm & Hammer which is wonderful. It makes my mouth and teeth feel super clean and my sensitivity to hot and cold is not as bad as before I started using it. Like other sensitive brand toothpaste, I find I don't feel my teeth are...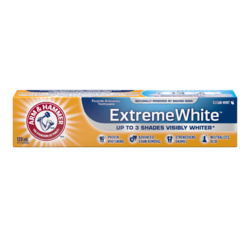 Arm & Hammer Extra Whitening Toothpaste

32 reviews
I love the taste of this toothpaste, and although some people may dislike the gritty texture, I actually find it leaves my mouth feeling cleaner than any other toothpaste! The only issue is that baking soda is more abrasive than other toothpastes, which can erode the enamel and...