Arm & Hammer is a registered trademark of Church & Dwight, an American manufacturer of household products. The logo of this brand is a muscular arm holding a hammer. Originally associated only with baking soda and washing soda, the company began to expand the brand to other products in the 1970s using baking soda as a deodorizing ingredient, including toothpaste, laundry detergent, underarm deodorant, and cat litter. The Arm & Hammer brand is one of the longest-running and most recognized U.S. trademarks. For more information visit
armandhammer.ca
1-12 of 12
Arm & Hammer Reviews
Use this as I suffer from alot of plaque on my teeth. Like to eat snacks alot lol. This worked excellent with the spin action. Will continue to buy and great price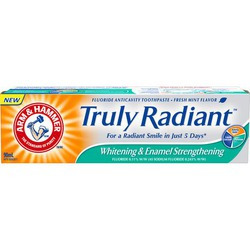 Arm & Hammer Truly Radiant Toothpaste

440 reviews
I'm not a huge fan of the taste and texture. If you taste baking soda, it tastes like this (duh!). It definitely works, I did notice my teeth were a lot whiter and smooth, and despite the taste, it does leave your breath nice and minty afte you rinse. I wouldn't recommend it if...


Love love love love this toothpaste been my good to toothpaste for the pass 3 years !! Highly recommend it to anyone it has perfect minty fresh taste help me with my sensitive teeth this toothpaste is my favorite 😍😍😍😍


I do not like the texture or taste of this product. My dentist recommended I try it and I can see the benefits. It leaves your mouth cleaner using baking soda


I tried this toothpaste last week and will never buy it again. It was so hot in my mouth I ended up with skin inside my mouth peeling away! I tossed it in the trash. This product is not intended for people that cannot handle overly strong toothpaste.


j aime beaucoup ce produit truly radiant je l utilise souvant moi et ma famille je compte rester fidele a cette marque parce que c est ma marque préférée et je compte pas la changé


This is a new enamel strengthening toothpaste by Arm & Hammer which is wonderful. It makes my mouth and teeth feel super clean and my sensitivity to hot and cold is not as bad as before I started using it. Like other sensitive brand toothpaste, I find I don't feel my teeth are...


Arm & Hammer Toothpaste Sensitive

10 reviews
Very effective toothpaste for those who want super white teeth. I like the version with the orajel over the other toothpastes because it's not as gritty afterwards. You'll have to do a good rinse afterwards but there is nothing that cleans teeth better. It whitens them and makes...


I have sensitive teeth and thought to try this as a more affordable option, big mistake. After getting to the end of the tube my teeth started to ache and my gums started to hurt. Unable to make it to a dentist I bought a tube of another brand (to be reviewed next!) and my...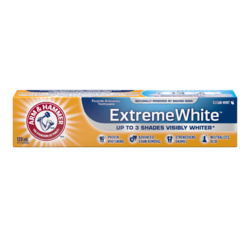 Arm & Hammer Extra Whitening Toothpaste

30 reviews
I love the taste of this toothpaste, and although some people may dislike the gritty texture, I actually find it leaves my mouth feeling cleaner than any other toothpaste! The only issue is that baking soda is more abrasive than other toothpastes, which can erode the enamel and...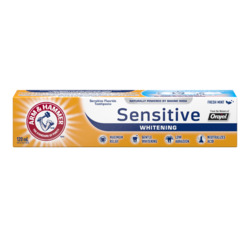 When I switched my toothpaste I wanted something more natural to help with my sensitive teeth. I find the taste of Arm & Hammer less harsh than most toothpaste. Ive also noticed my teeth have even gotten whiter in the process!!!


I bought this toothpaste because I have sensitive teeth and baking soda is known to be an effective natural whitener for your teeth. The first thing I noticed is that the product really has the taste of baking soda, it's not really hidden by the dded mint flavour. I absolutely...