Coca-Cola® was invented by Atlanta pharmacist, John Smith Pemberton in 1886. Since that time, The Coca-Cola Company has grown to represent over 400 different brands in 200 countries. Coca-Cola® beverages have been sold and distributed in Canada for more than one hundred years. In 1906, the first Canadian-made Coca-Cola® bottles came off the production line at 65 Bellwoods Avenue in Toronto. Coca-Cola in Canada is represented by Coca-Cola Refreshments Canada and Coca-Cola Ltd. For more information visit
cocacola.ca
Facebook | Twitter | cocacola.ca
1-11 of 11
Coca-Cola Reviews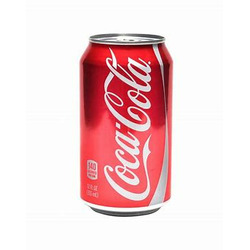 Coca-Cola Classic

232 reviews
Not sure what to say other than Coke is the best......I've been drinking it for years and won't be stopping any time soon. Great taste is the reason I drink it over the dish water known as Pepsi lol


Simply Orange Juice

98 reviews
Although it's a cheaper orange juice, when I taste it seems artificial. I prefer others brands like supermarkets brands, but I drink it sometimes when I find a good price!


Coca-Cola Cherry

95 reviews
This is my favourite .I but it all the time .I tend to buy in bulk when on offer as well .it's not too sweet neither too bitter .it's just the perfect taste .better served I've cold


Coca Cola Vanilla

65 reviews
This is a very delicious drink with a very rich taste. The sweetness and Vanilla taste is just right. I absolutely love it amd will definitely continue to purchase it.


Diet Coke

88 reviews
Can't live without my Diet Coke it's my breakfast lunch and dinner It's great at work as generally through the day I don't have much time to eat so this really filled me up! I'm addicted to the taste it's my all time fave drink! X


Coca-Cola Cherry Zero

60 reviews
I absolutely love when Coke releases Cherry Coke Zero, it is one of my favourite drinks as a treat or an anytime go to special drink!! I love the taste and the flavour!


Coca-Cola Zero caffeine free

1 review
Coke Zero tastes just like Regular coke without the added calories, sugar, or caffeine. This is my new go to product. Tastes wonderful on it's own or as a mix. Coke Zero is always found in my fridge.


Fresca Soda

38 reviews
Super refreshing grapefruit drink. Nice and sweet. Great for a warm day, My favorite type of pop by far. Can never go wrong. I can say that some find it an acquired taste, but most people I encounter really enjoy it. Pretty much the same price as any other type of pop, so price...


Coca-Cola Diet Cherry

9 reviews
Iv been buying this drink regularly as a Diet Coke lover this is definitely a good addition very refreshing especially when chilled absolutely love the taste!


Sprite Zero

19 reviews
Sprite is not my favourite lemonade but have it from time to time. Decided to try the zero equivalent as its no added sugar. Its ok but you can tell is not normal sprite. Would prefer diet schweppes over this any day.


Rockstar Energy Drink

46 reviews
I'm a busy mom with 5 kids and I am also running a farm. To say I need all of the energy I can get would be an understatement. ROCKSTAR GIVES ME THE BOOST I NEED TO KEEP GOING ! It's great taste and affordable price is just a bonus.