Coca-Cola® was invented by Atlanta pharmacist, John Smith Pemberton in 1886. Since that time, The Coca-Cola Company has grown to represent over 400 different brands in 200 countries. Coca-Cola® beverages have been sold and distributed in Canada for more than one hundred years. In 1906, the first Canadian-made Coca-Cola® bottles came off the production line at 65 Bellwoods Avenue in Toronto. Coca-Cola in Canada is represented by Coca-Cola Refreshments Canada and Coca-Cola Ltd. For more information visit
cocacola.ca
Facebook | Twitter | cocacola.ca
1-13 of 13
Coca-Cola Reviews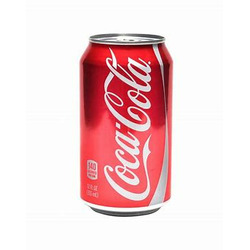 Coca-Cola Classic

261 reviews
I absolutely love Coca-Cola, it's the only thing I will drink. I'm currently pregnant and I have caved it in all 4 pregnancies. It tastes so good. The classic one is all I'll drink. I would highly recommend it. I make slushies out of it and my friends drink it with spirits. Its...


Coca-Cola Zero

178 reviews
Zero cola was excellent for my diet, does not have that much calories which I love. Great addition for a soft drink! Love the flavour, and taste. Truly enjoy it!


Simply Orange Juice

102 reviews
It tastes so good and fresh. I love the pulp free juice. We regularly buy this juice. I like this one as its prepared fro real fruit and not from concentrate. Highly recommend.


Coca-Cola Cherry

99 reviews
I do like the original but cheery flavour is my favourite. I'm not keen on the vanilla but when you want something different to original you need to try cherry


Diet Coke

100 reviews
Diet Coke is my go to drink. The only downside is I think I'm slightly addicted! Out of a can is best, perfect to clench my thirst and give me a much needed boost during the day.


Coca Cola Vanilla

69 reviews
I thought it would be a mild vanilla taste, but it kicks hard like cherry coke. I like cherry coke, however, but this was too harsh for me. A few friends really liked it, but after a few sips they changed their mind as well


Coca-Cola Cherry Zero

63 reviews
I love Coke Zero, and I love cherry Coke! I'm trying to lose my covid weight, and this drink really hits the spot. No sugar, with that delish cherry Coke taste. I wish I could buy this year round!!


Coca-Cola Zero caffeine free

1 review
Coke Zero tastes just like Regular coke without the added calories, sugar, or caffeine. This is my new go to product. Tastes wonderful on it's own or as a mix. Coke Zero is always found in my fridge.


Fresca Soda

39 reviews
This sofa drink is my most favourite of all fizzy drinks. It's refreshing and the taste is also! I have been drinking this beverage for as long as I can remember! Little secret; it's a great mix also wink wink! This drink is always in my household


Coca-Cola Diet Cherry

9 reviews
Iv been buying this drink regularly as a Diet Coke lover this is definitely a good addition very refreshing especially when chilled absolutely love the taste!


Rockstar Energy Drink

56 reviews
Ce nest pas la meiller energy drink elle est bcp trop sucrée de plus elle donne pas vraiment d'énergie mise a part des palpitations cardiaques cela dit jaime plus les boisson naturelle


Sprite Zero

19 reviews
Sprite is not my favourite lemonade but have it from time to time. Decided to try the zero equivalent as its no added sugar. Its ok but you can tell is not normal sprite. Would prefer diet schweppes over this any day.


Five Alive Juice

25 reviews
Really enjoy this juice, tasts great, its also great to include in protein shakes and just shakes alone with fruit. The price is also very food, only $2 at walmart