Coca-Cola® was invented by Atlanta pharmacist, John Smith Pemberton in 1886. Since that time, The Coca-Cola Company has grown to represent over 400 different brands in 200 countries. Coca-Cola® beverages have been sold and distributed in Canada for more than one hundred years. In 1906, the first Canadian-made Coca-Cola® bottles came off the production line at 65 Bellwoods Avenue in Toronto. Coca-Cola in Canada is represented by Coca-Cola Refreshments Canada and Coca-Cola Ltd. For more information visit
cocacola.ca
Facebook | Twitter | cocacola.ca
1-11 of 11
Coca-Cola Reviews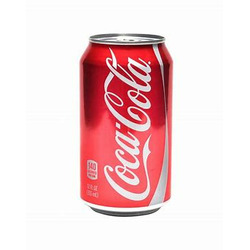 Coca-Cola Classic

216 reviews
It's nothing like drinking Pepsi and it leaves a weird gross lump in your throat aftwards. This is not a great pop and you can taste the can it comes in.


Coke Zero

141 reviews
Coke is always great!! I like Coke Zero better than Diet Coke. Coke Zero has less caffeine in it. This also has a slightly different taste to it then Diet Coke.


Simply Orange Juice

96 reviews
Notre jus d'orange préféré pour toute notre petite famille ! Pas trop sucré pas trop acide juste parfait, vraiment délicieux 🤤 Le seul petit point négatif un peu dispendieux quand il n'est pas en special


Diet Coke

81 reviews
Best soda you can buy. Love the taste and just the right amount of sweetness and bubbles. Bottles for on the go and cans for parties. A classic taste that is never going to go out of style!


Cherry Coke

51 reviews
Once I discovered Cherry Coke nothing else could compare! Coke has always been a favorite of mine but the touch of cherry flavour make it perfect! I drink it every chance I get! Mmmm, refreshing!


Coca Cola Vanilla

36 reviews
i love this product i get mine at my food lion i love the taste and its a good value i would recommend this to people who love soda and love flavored soda


Coca Cola Cherry Coke

34 reviews
Cherry Coke is the bomb.com and it will make your mouth water and it goes down well with an juicy cheeseburger!!! If you want a great tasting drink that will make you burp and it will feel great going down I can guarantee that so go get you a good old fashioned Cherry Coke!


Fresca Soda

32 reviews
So refreshing to have this drink. I reach for this when I really want my thirst quenched and always delivers. Great taste and fizz. Give it a try and you won't be disappointed.


Sprite Zero

17 reviews
I had gotten away from soda the last few years but this is my go to when I want a treat. It's nice crisp and refreshing flavour without the guilt of all that sugar. I do know the chemicals aren't the greatest but as an occasional treat I love it


Rockstar Energy Drink

44 reviews
Sometimes coffee doesn't do it for me so I'll have one of these in the morning. It gives me the energy I need and wakes me up. It doesn't leave me jittery at all. The flavor is great also.


Cherry Coke Zero

21 reviews
Coke Zero Cherry is perfect in flavor, cost and when it comes to what I like. Having type 1 diabetes its hard to find a good drink that doesn't effect my way of living.