Facebook | Twitter | purell.ca
1-5 of 5
Purell Reviews
Purell Instant Hand Sanitizer with Aloe

130 reviews
Purell with aloe is my favorite sanitizer out of any that are available. Over the last couple years I have been forced to try others when it has been unavailable and they don't compare. I find it absorbs so much better and doesn't leave a gritty feeling like some. It can sting...


PURELL Advanced Hand Sanitizer NATURALS

46 reviews
I like this Purell Hand Sanitizer. It's really moisturizing and I like how natural it is. I've been looking for a hand sanitizer that doesn't smell too strong and this was it. I highly recommend this hand sanitizer!


This is a wonderful hand sanitizer. It is the only one I use on my family. It is very effective, and it leaves your hands feeling clean and dry (unlike some other products).


Perfect for your purse, car, desk, backpack, etc. I love these single use for on the go. Sanitizer is part of our daily routine now and it's easier than packing a bottle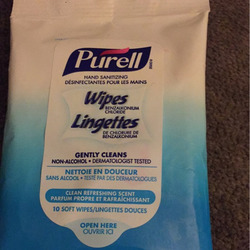 Purell Hand Sanitizing Wipes

7 reviews
These wipes are thin but tough. It smells clean and doesn't leave any icky residue. I love keepig these around the house to quickly wipe surfaces and my hands. The only downside is how drying it feels, but, it is something in common with the other sanitizing wipes.